Braintree's solutions address four basic areas of integrated IT service management, including assessment, design, implementation, and training, to ensure that clients meet HIPAA, and other mandates. Braintree provides cost-effective quality-assured managed IT services to your practice center, both onsite and/or via remote management. Our comprehensive service offerings, designed to help your center operate at peak efficiency, while achieving your business goals, include the following:
Desktop management and mobility services
Remote service and support
Service desk
Network management
Storage services
Security services
Braintree provides highly scalable, balanced and cost effective IT outsourcing solutions that meet your critical business objectives. Our exclusive Integrated Infrastructure Management (IIM) solution blends all of the key elements of our infrastructure support services to deliver results that meet or exceed customer satisfaction levels and enable consistently high availability of assets.
Braintree provides end-to-end solutions for each unique organization's technology challenges. From technology planning and acquisition to image development, integration services, and full life cycle support, we collaborate with best-of-breed technology suppliers to offer clients the greatest flexibility and return on their investments.
Braintree provides comprehensive desktop management and mobility services that are designed to meet the scalable needs of clients with simple to highly complex environments. We support Servers, PCs, laptops, mobile and thin computing devices, and provide all associated support services such as managing distributed servers and printers. Our end-to-end service provides full life cycle management from procurement to retirement, including infrastructure technology, software and support for all end user devices. Your center can take advantage of the full suite of managed services or benefit from individual services depending on your needs.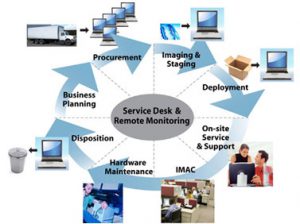 Braintree's unique Integrated Infrastructure Management (IIM) solution creates a tightly integrated solution that combines an effective IT asset management life cycle, an efficient service delivery process, a service desk, and a mutually beneficial relationship methodology to reduce costs, increase productivity and help your center gain maximum value from information.